Blade Slippage Comments from Ray Seymore: "There is not and likely will never be a unique blade clamp made that will eliminate blade slippage". If anyone claims they have such a clamp to sell you, DO NOT WASTE YOUR MONEY! I recommend you ask for a written money back guarantee that the clamps will eliminate blade slippage.
There are however USERS that can successfully re-train themselves in how they use their clamps and thereby extend the useful life of their blade clamps! One easily solved thing that might be acceptable in your situation is check your tension. If you are using a conventional flip lever type tensioner that applies a fixed amount of blade tension to the blade, try to determine if you actually need that much blade tension. If not then leave a slight bow in the blade when you clamp it into the saw and this can reduce the amount of tension in proportion to the amount of bow used. Another way to reduce tension slightly is after you have flipped the lever back, loosen the tension knob on the back of your saw a small amount. Remember when you use the black tension knob on back of the saw, you will need to re-adjust the tubular steel arm occasionally (using the tension knob to raise or lower the arm) to keep it parallel with the table top for optimum blade travel and performance of your saw.

Try these suggestions and call SEYCO if you have any questions, wish to order parts or desire to discuss tension issues further call Mike or Ray at 800-462-3353
DO NOT OVER TIGHTEN YOUR BLADE CLAMP THUMB SCREWS!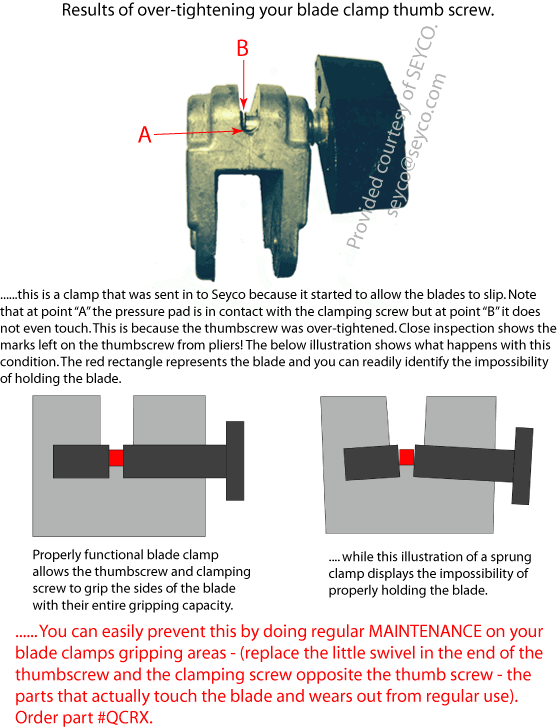 - OR ORDER THE EX21-C36A AND REPLACE ENTIRE BOTTOM CLAMP -